At Carnegie Medical Centre we are constantly trying to improve and update the information available to patients on our website. Below are links to our practice information brochure and our latest information about our current team of doctors and the hours they practice.
Billing Policy
Carnegie Medical Centre is a privately billing clinic. Full payment is required at the time of consultation.
Existing pensioners will be bulk billed
Centrelink Health Care Card Holders will be billed at a reduced rate
Commonwealth Seniors Health Card holders will be billed at the private rates.
Our Tyro payment system allows rebates to be paid immediately back into your account (please note that an eftpos card with a cheque or savings account attached must be used to take advantage of this feature).
After hours (after 6pm on Wednesday) and Saturday morning appointments cannot be bulk billed and will incur an "after hours" surcharge.
Fees
New Patients with a valid pensioner concession card
Standard Consultation (23) $55.00
Long Consultation (36) $90.00
Prolonged Consultation (44) $130.00
Mental Health care Plan (2717) $160.00
Mental Health care Plan review (2712) $90.00
Mental Health Consultation (2713) $90.00
*please note that we have tried to keep out of pocket fees for pensioners to a minimum
Privately billed patients
Standard Consultation (23) $90.00
Long Consultation (36) $145.00
Prolonged Consultation (44) $185.00
Mental Health care Plan (2717) $180.00
Mental Health care Plan review (2712) $145.00
Mental Health Consultation (2713) $145.00
Existing pensioners are Bulk Billed
Health Care Card Holders are charged a reduced fee
Standard Consultation (23) $ 75.00
Long Consultation (36) $ 120.00
Prolonged Consultation (44) $150.00
After Hours Consultations
Standard Consultation (23) $ 100.00
Long Consultation (36) $ 155.00
Prolonged Consultation (44) $195.00
*please note prices are subject to change without notice
Ongoing Scripts and Referrals
The policy of this clinic is that an appointment must be made for repeat prescriptions and referrals.
Patients who have consulted with their Carnegie Medical Centre doctor in the last three months and cannot attend the clinic for an appointment should call our reception staff to discuss.
A fee of $20.00 for prescriptions and $30.00 for referrals may be applicable in some circumstances.
Childhood Immunisations
Childhood immunisations are usually booked with one of our nursing staff.
If you are booking an immunisation appointment for your child please mentions this to reception staff at the time of booking.
If your child is not an existing patient at the clinic, please your child book and appointment with the doctor first, and then with the nurse for the vaccination. This will allow the doctor to spend some private time with you and your child, and to create a medical history. Normal fees will apply.
For subsequent childhood immunisations, just book with the nurse – please ask our friendly receptionists. These immunisation consultations are bulk billed.
Catch up immunisations: the gathering of information about your child's immunisations, and interpretations regarding catch up immunisations and to advise the AIR can sometimes be complex. There may be an out of pocket administrative fee to cover our nurses' administrative time.
New Patients
Carnegie Medical Centre welcomes new patients.
If you wish to bring your medical history for us to manage, please inform the Reception team on the day of your first appointment. On your behalf, we would contact your old medical provider to arrange the transfer process.
Also you are welcome to download and complete the Patient Registration and Medical History forms below and bring with you on the day of appointment.
Download the New Patient Registration form »
Download the Medical History form »
Download the Patient Transfer of Information form »
Download the Practice Information Brochure »
Download the Doctors Hours Information »
Scripts and Referrals
If you require a referral to a specialist or a repeat prescription please make an appointment with your doctor.
After Hours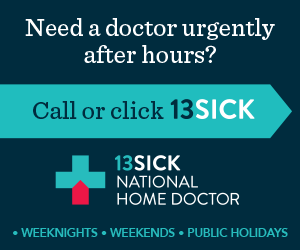 For after hours medical attention please call the NATIONAL HOME DOCTOR SERVICE on 13SICK (137425).
www.homedoctor.com.au
Where to find us
Our clinic details can be found here.
Patient Suggestions
We welcome patient feedback or suggestions for improvement to the practice. Please call, write or use our suggestion box. If you need to discuss the matter externally contact: Health Complaints Commissioner ph: 1300 582 113 or email hsc@dhs.vic.gov.au
Appointments
More information about appointments can be found here.
Missed Appointments or Late Cancellations
If you fail to attend your appointment or cancel less than 2 hours before an appointment a "non attendance fee" of $50.00 may apply.
Please let us know asap if you are unable to attend an appointment, this will allow us to offer the time slot to another patient and may help avoid your receiving an account for non attendance.
Results
Patients are responsible for following up their results.
Your doctor will advise when they expect your results to arrive at the practice.  You are encouraged to make a review appointment to discuss your results with your doctor.   In the event of a clinically significant result, you will be contacted as soon as possible to make a follow up appointment to discuss the results with your doctor.  Your doctor may also contact you via SMS to make a "non urgent" appointment to discuss results.
Some test results may be available to you over the phone by talking to our nurses. You can ring for results – 9568 5300  on weekdays between 2pm and 3pm. 
Results are usually available 3 days after having the test. If you have previously consented with your doctor, results maybe sent to you via SMS. Please ensure that you advise us of any change to your contact details.
Please note that if a child is aged over 16 years, the details of test results cannot be legally disclosed to a parent without the patient's prior consent, and this needs to be recorded in their medical notes.
Privacy 
Carnegie Medical Centre complies with both State and Federal Privacy Legislation.
Email and Internet Policy and Social Media Policy
Transfer of Medical Records
If you are leaving the area or wish to regularly see another GP, we are happy to transfer your records to another clinic. Medical records are sent via registered mail and a fee of $20.00 per person or $30.00 per family will apply. This transfer fee must be paid prior to the records being released.
Please allow up to 14 days for the transfer to be complete.