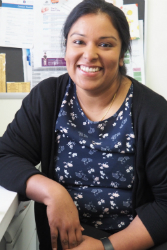 Dr Niroshe is an independent GP who has been an important member of the clinical team at Carnegie Medical Centre since 2013. Whilst Dr. Niroshe enjoys all aspects of General Practice , she has a special interest in women's health including Implanon insertions and removals, antenatal and postnatal care and paediatrics.
Dr Niroshe is also able to provide reproductive counselling including options for unplanned pregnancies such as Medical Termination of Pregnancy.
Dr Niroshe is heavily involved in medical education having held teaching positions at both Monash and Melbourne Universities, and currently works at the EVGPT one day per week. She is passionate about educating the next generation of GP's and has created an excellent and supportive learning environment for all students and GP registrars who are fortunate enough to be placed at our practice. Dr Niroshe was awarded the very prestigious award of 2018 Supervisor of the Year – Metropolitan by Eastern Victorian GP Training and in 2019 was awarded RACGP's Victorian General Practice Supervisor of the Year.
She is a dedicated GP who is happy to take on new patients (but not available for online bookings for new patients) and has developed a loyal patient base; she is particularly a favourite with young children.
On the weekends Dr Niroshe enjoys spending quality time with her family (including her dog Rosie) reading and visiting country Victoria.
Consulting Times:
Monday 8.30pm to 12.30pm and 1.30pm to 5.00pm
Wednesday 9.00am to 12.30 and 1.30pm to 7.30pm
Friday 8.30am to 12.00pm and 1.30pm to 5.30pm
1 Saturday per month